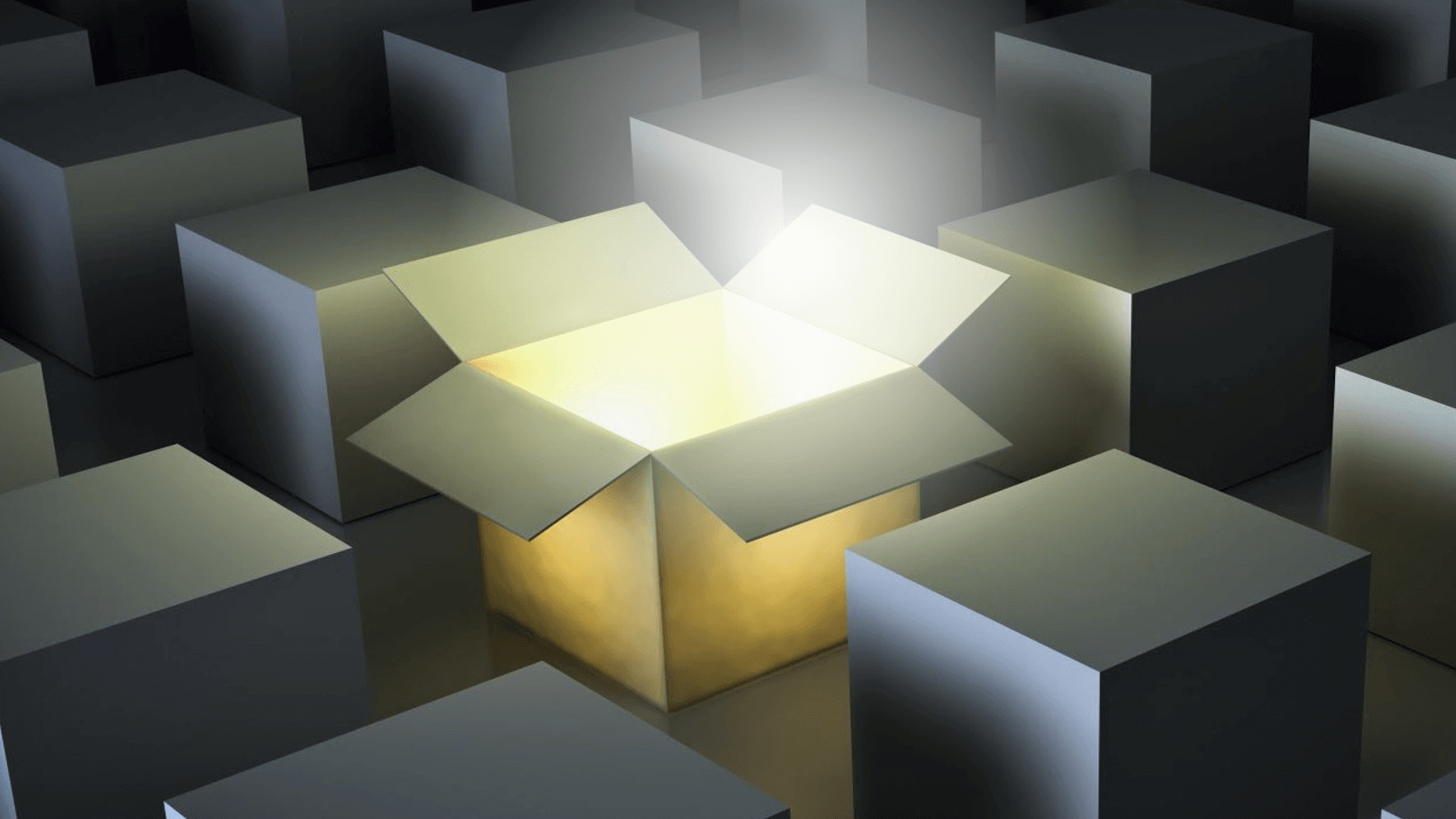 What we do
rpc unboxed
Your management consultancy for customer-centric transformation
We are the leading customer-centric performance company, bringing together businesses and customers worldwide. With a deep understanding of people, data and organizational needs, rpc drives your value creation and growth by designing exceptional customer experiences that create long-lasting relationships.
Learn more about how we partner with you to build a successful, customer-centric business strategy that is compelling both online and offline. From conception to implementation: right at your site.

Fields of expertise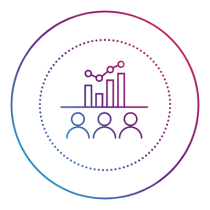 Sales & Customer Experience Strategy
A well-crafted Sales & Customer Experience Strategy aligns customer-centric approaches with effective sales techniques to create seamless, value-driven interactions that foster loyalty and drive business growth.
Ready to supercharge your business?
CX Performance Assessment
CX Strategy
Retail of the Future
Omnichannel: Offline-/Online-Integration
Sales Network & Partner Strategy
Direct-2-Consumer
Customer Community Building & Loyalty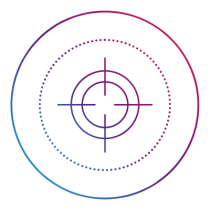 Organizational Development & Operating Models
The importance of Organizational Development and operating models lies in their capacity to create structured frameworks for companies to optimize processes, enhance efficiency, foster adaptability, and align resources with strategic goals, ultimately enabling sustainable growth and competitive advantage.
Ready to elevate your organization?
Operating Model & Organizational Excellence
Agile Operating Model Concepts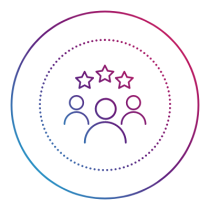 People Empowerment & Change
People empowerment and change initiatives involve equipping individuals with the resources and skills to take ownership of their work and drive positive transformations within an organization, enhancing employee engagement, increased productivity and organizational agility.
Ready to join the journey of transformative growth?
Hire-2-Retire Employee Experience Design
E-Academy & Digital Learning
Leadership Excellence & People Empowerment
Career Development: Learning Journeys, Training and Coaching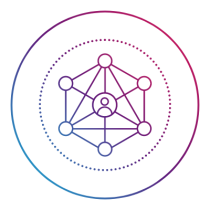 Data & Technology
The seamless integration of data and technology empowers informed decision-making and drives innovation, leading to enhanced operational efficiency and competitive advantage.
Ready to harness the power of data and technology?
Data Engineering
Data Science
Visualization & Reporting
Data Strategy & Business Analytics
Software Development
IT Project management
Digital solution design & innovation management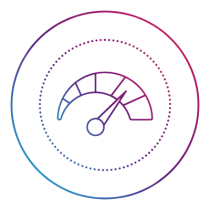 Sales & Service Performance
Optimal sales and service performance directly correlate with customer satisfaction, loyalty, and overall business profitability, underlining their crucual role in sustainable success.
Ready to elevate your business excellence?
Customer Service & After Sales Optimization
Partner-/Dealer-Network Optimization & Coaching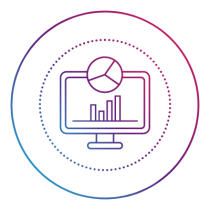 Digital Marketing & Commerce
For businesses Digital Marketing & Commerce are essential due to their utilization of online platforms to expand reach, elevate brand visibility, and stimulate sales, thereby driving overall business growth.
Ready to reshape your business's digital landscape?
Digital Marketing Centralization & Hub Building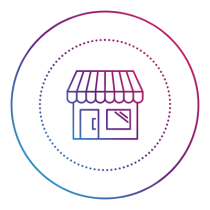 Physical & Digital CX Design
The convergence of physical and digital customer experience (CX) design orchestrates seamless interactions, nurturing lasting connections and fostering brand loyalty, thereby shaping business success in an omni-channel world.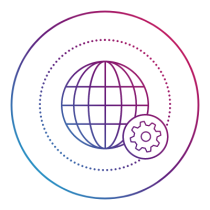 Global Implementation & Transformation
Global Implementation & Transformation supports the effective implementation of strategies, promotes growth and increases adaptability in a constantly changing business environment, ultimately leading to long-term success.
Why rpc?

We overcome the hurdles of true customer centricity

of all customers value seamless customer experiences and are willing to pay more for them.
*Source: Forbes meta research, 2020
of all transformation processes fail in their final stages.
*Source: McKinsey, 2019
"We are specialized in designing and implementing high-performance customer experiences in an omnichannel environment to generate value for your business."
Jan Schemuth, Managing Director
Our end-to-end approach starts with your customer's perspective and involves your own organization from the beginning. This allows us to seamlessly implement the strategy tailored to your needs and thereby sustainably improve customer experience, conversion rates and brand loyalty.
Because we build on real on-site experiences, we can develop and implement strategies that perform successfully in the final steps of your transformation.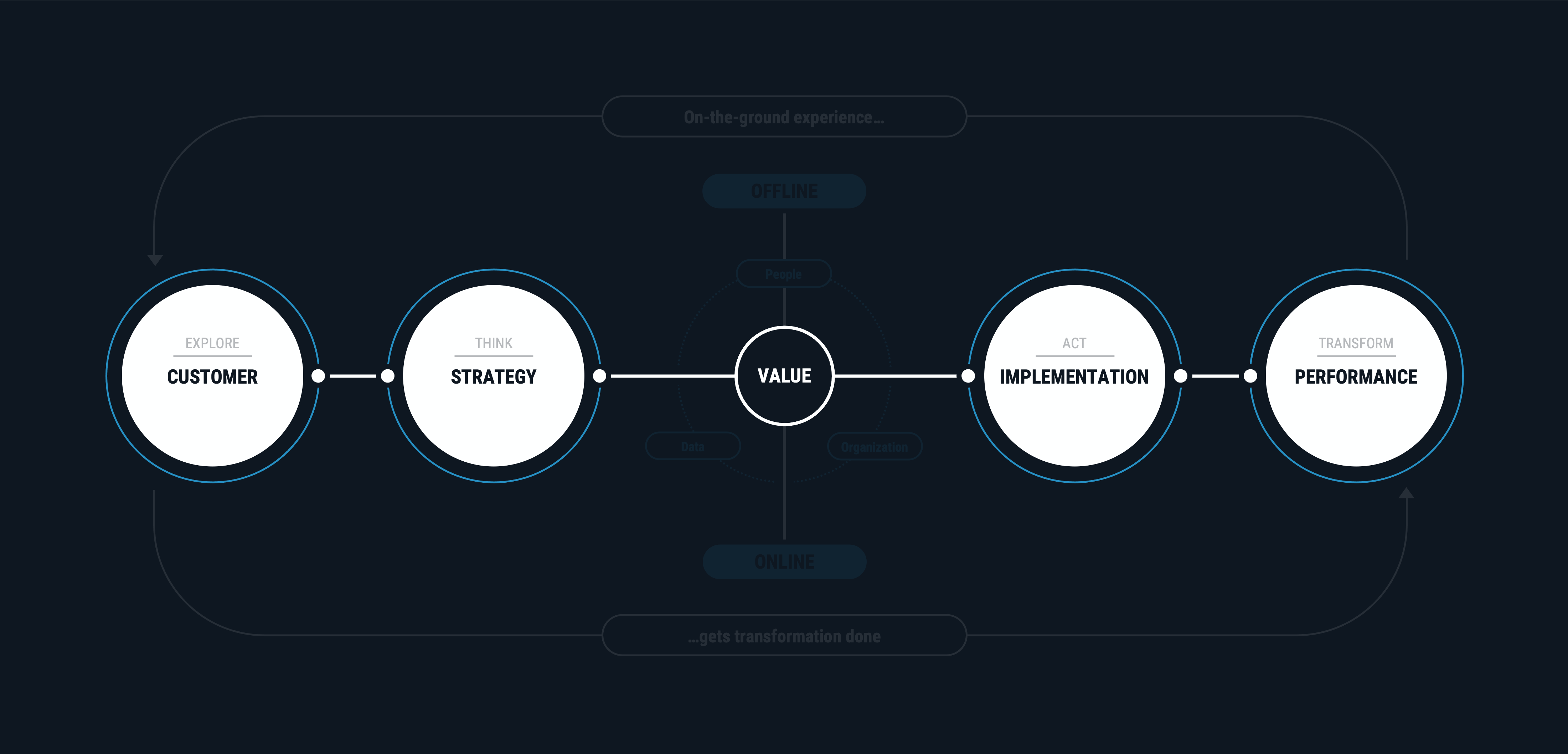 Value creation in the magic triangle
We work with people.
That's why we empower your team, your organization and processes through data-driven insights to successfully reach customers and secure your goals with our concepts. With strong KPIs, we accompany your transformation process and always understand if we are successfully addressing your objective or if we need to adjust our common course.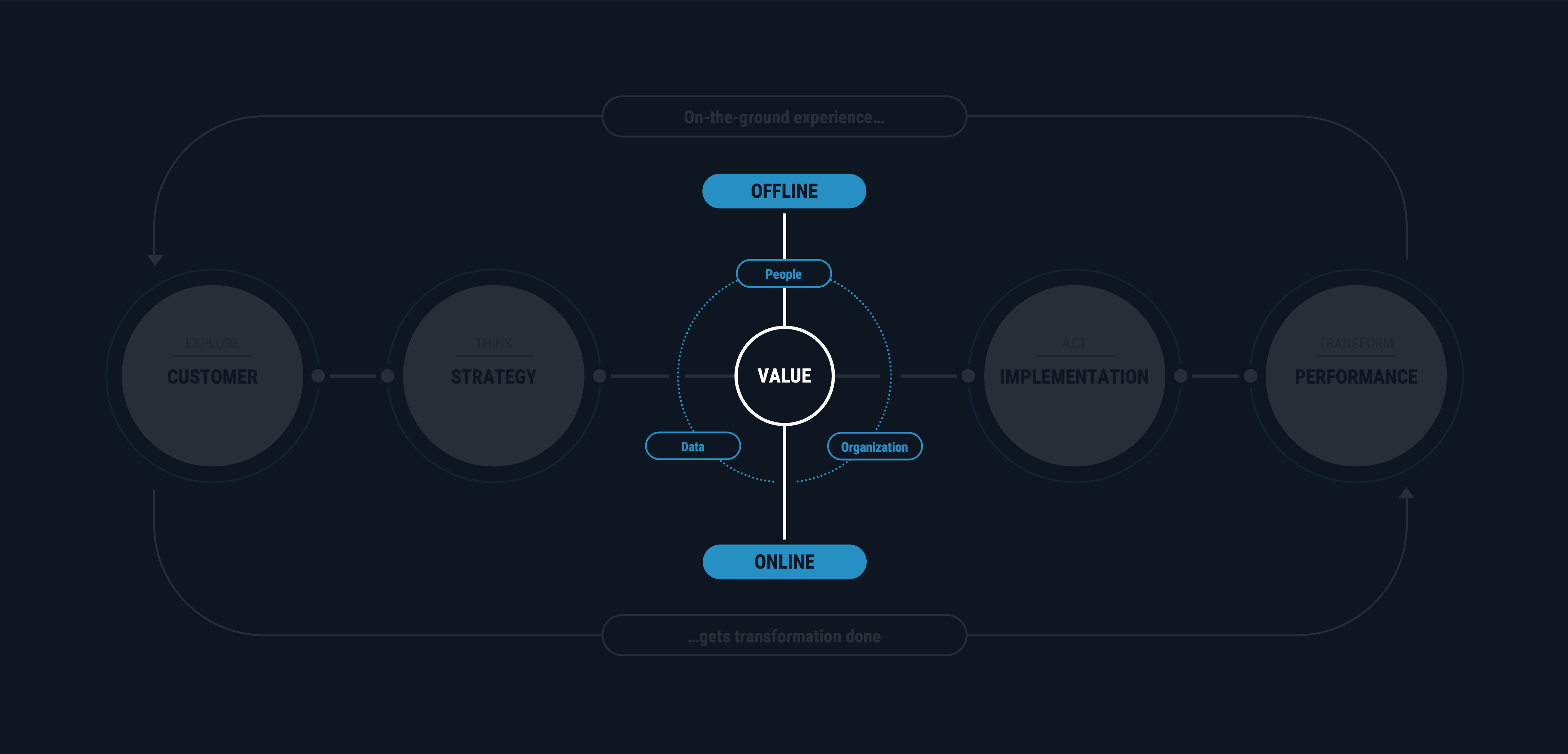 Your transformation process with rpc
Generation of customer-centric insights


Implementation of processes with on-site experience

Derivation of company-specific strategies


Achieving performance excellence online and offline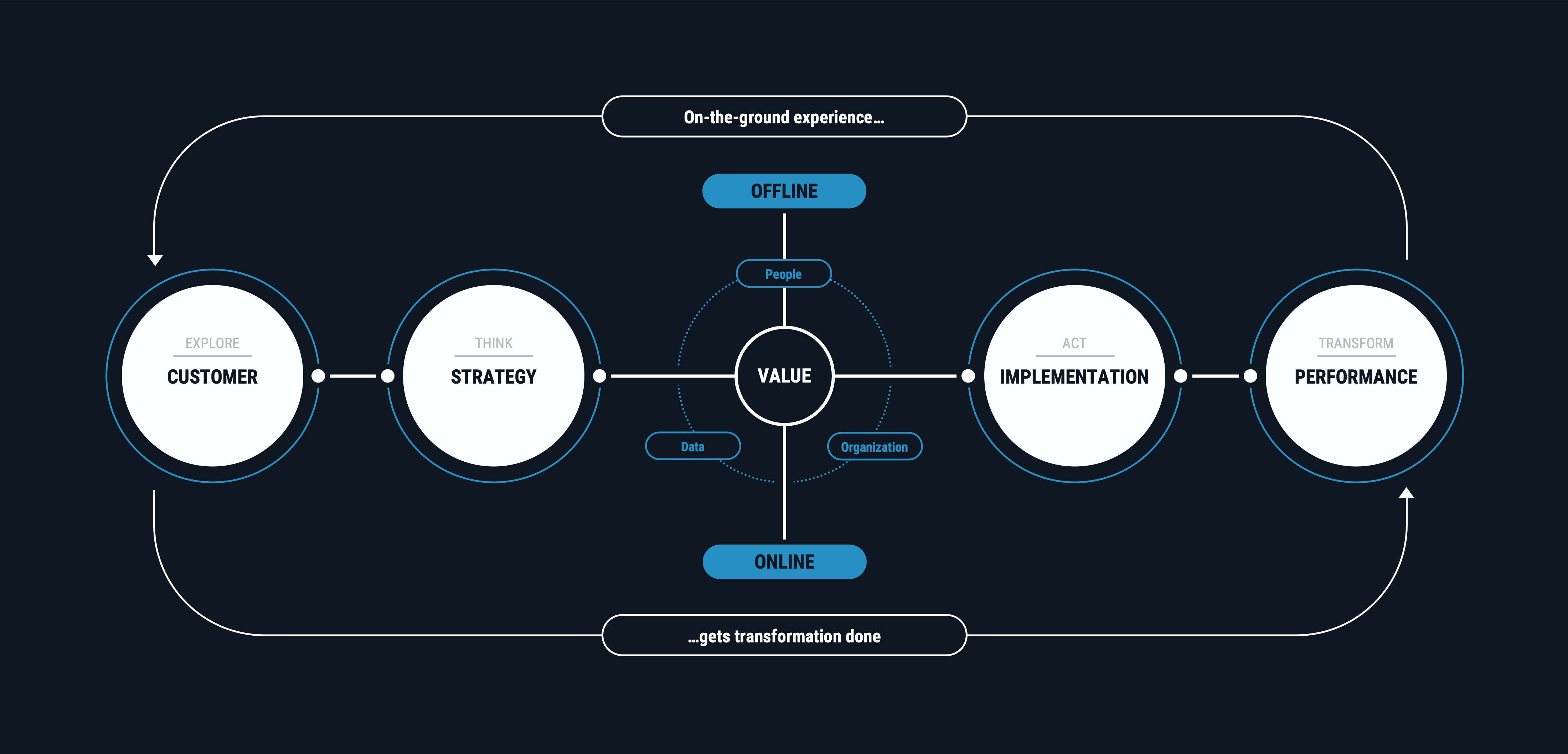 Clients