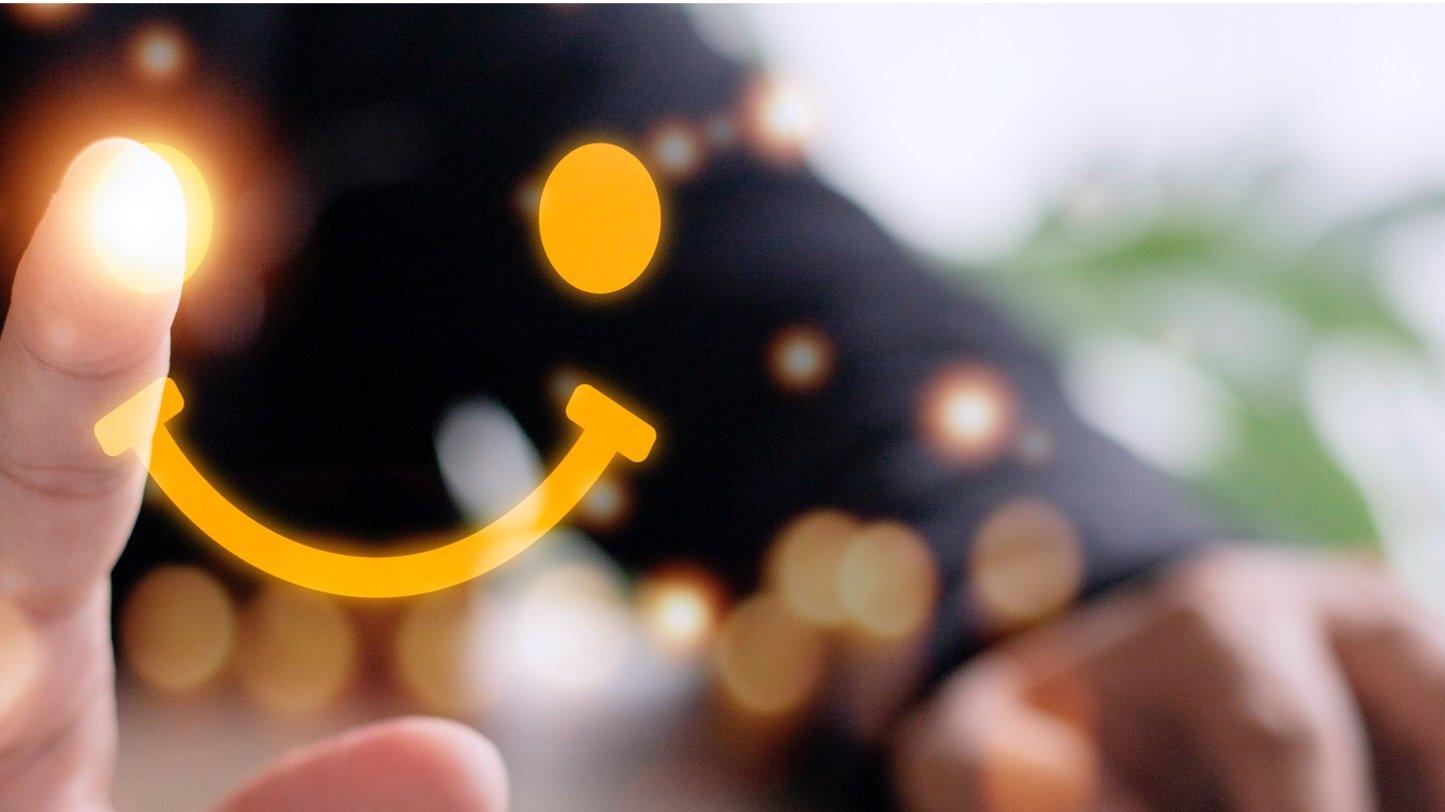 Improve
your

customer
experience

with
the
CX Journey Booster
With the CX Journey Booster, we enhance customer experience and contribute directly to your business goals. By analyzing current customer experiences, we identify optimization potentials and identify specific steps and quick wins to bring you closer to your ideal customers' journey – a real boost for your success.
"I have learned that people will forget what you said, people will forget what you did, but people will never forget how you made them feel."
Maya Angelou

In today's competitive landscape, businesses face an array of challenges when it comes to delivering exceptional customer experiences. From ensuring consistent interactions across various touchpoints to understanding and adapting to evolving customer preferences, the path to achieving CX excellence presents its own set of obstacles. It's through addressing these issues that the genuine value of the CX Journey Booster shines. By diving into the dynamics of customer interactions and touchpoints, we lay the foundation for solutions that transform these challenges into opportunities for creating remarkable customer experiences.
Common challenges in customer experience excellence
Navigating through various customer interactions can be quite complex, involving a multitude of factors that need to be considered. Through our experience, we've identified and summarized key obstacles that tend to come up time and again. By exploring these challenges, we can better equip ourselves to create smoother and more satisfying customer journeys.
Low
Brand Awareness
Oftentimes brand awareness is low because clients struggle to identify the right channels to address potential customers.
Low
Conversion
Rates
Breaks and inefficiencies in the customer journey cause customers to abandon the purchase, which impacts conversion rates.
Low
Customer
Satisfaction
Bad experiences and missed needs fulfillment decrease customer satisfaction and drive customers to switch to competitors.
In order to provide your customers' with an overall outstanding customer experience, you need to understand, how expectations are formed, what these expectations are and to what extend they are met. These challenges are easily mastered with the CX Journey Booster.
Customer journeys as the key to success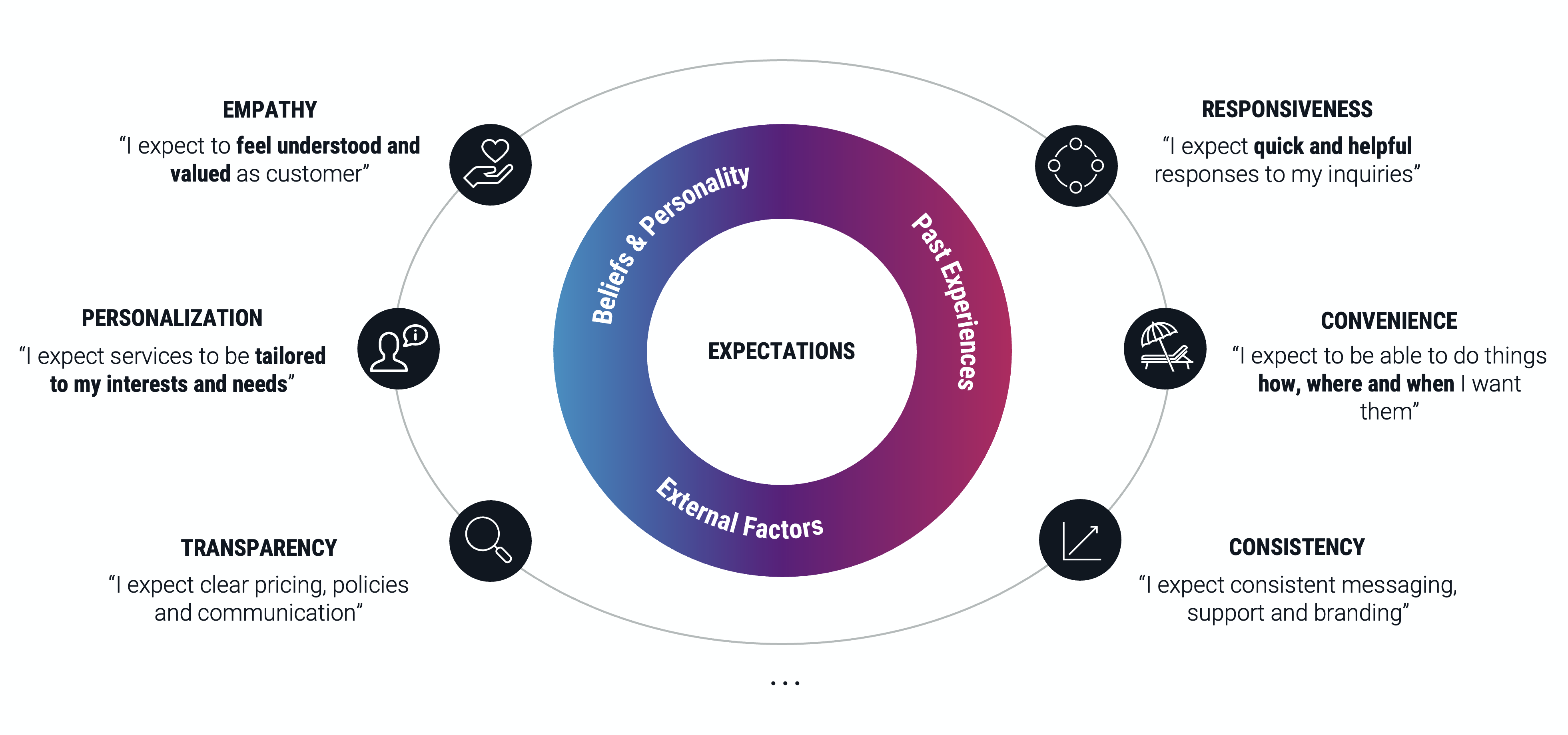 These challenges are usually the result of the delivery of an unsatisfying customer experience. Customer experience is the sum of all thoughts, perceptions and feelings a customer has while interacting with a brand across the entire customer journey. Customers will have a positive experience if their expectations have been met or exceeded by the brand. On the other hand, customers customers will have a negative experience if the brand fails to meet their expectations. In the end, customer experience is the only sustainable differentiator and source of competitive advantage.
In order to provide your customers' with an overall outstanding customer experience, you need to understand, how expectations are formed, what these expectations are and to what extend they are met. These challenges are easily mastered with the CX Journey Booster.
Turning challenges into successes
Our CX Journey Booster allows us to identify gaps and optimize touchpoints to solve the challenges and achieve better results:
High Brand Awareness
A personalized journey helps to identify optimal channels to engage with customers and leads to client advocacy.
High Conversation Rates
Seeing where you are currently losing your prospects allows you to fill in those gaps in the journey and increase efficiency.
High Customer Satisfaction
The optimization of touchpoints and improvement of pain points lead to higher client satisfaction
and loyalty.
"Building a good customer experience does not happen by accident.
It happens by design."
Clare Muscutt
Create outstanding journeys with the CX Journey Booster
In order to elevate your customer experience, we look at the entire journey from your customer's perspective. The CX Journey Booster analyzes every interaction across all channels while taking the customer's needs and feelings into consideration. This allows us to identify gaps to optimize touchpoints and turn challenges into success factors through targeted actions.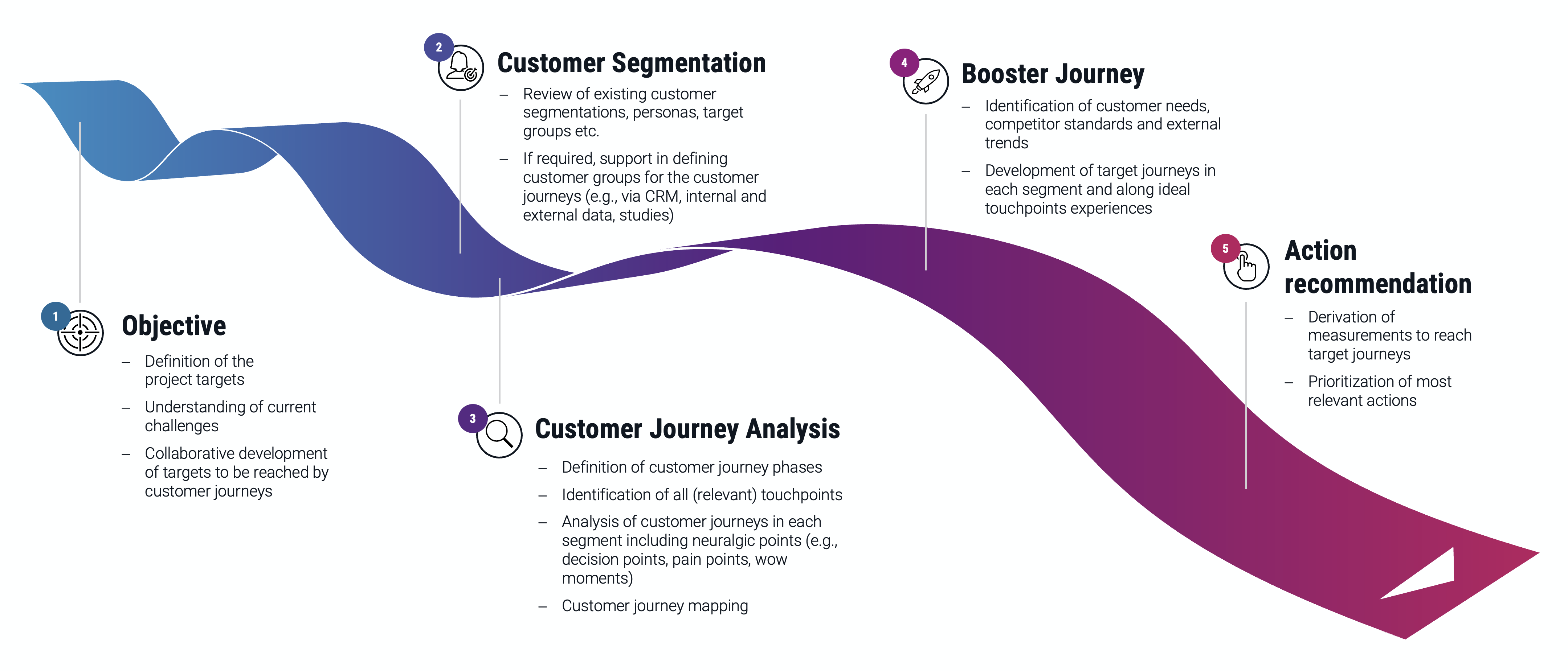 Our approach in detail
1 | Objective
We start with a collective target setting to define the project's focus and desirable outcomes. This process includes identifying company goals and challenges, screening marketing, sales, and customer strategy, and ensuring transparency in product/service portfolio and digital offers.
2 | Customer segmentation
A fundamental element for the design of customer journeys are the personas. Personas are user profiles that represent the needs, wants, behavior and attitudes of a group of real and potential customers. They help understand customers and empathize with them in order to make better decisions that create more value. With the data collected within the company and the external data we gather additionally, we are able to construct persona profiles for each type of client.
3 | Customer journey analysis
Once we have defined the personas, we use data to sketch the as-is customer journey for each persona. The As-Is customer journey represents the current state of the experience of customers along the touchpoints they experience with the brand. The visual representation of the As-Is Journey allows us to put ourselves in the customers' shoes and go through the process as they would. By analyzing this journey, we can identify gaps, opportunities and pain points that impact the experience.
4 | Booster journey design
After having identified the optimization potential from the As-Is customer journey, we design the Booster Journey and the targeted actions needed to achieve it. The booster journey is the ideal future experience customers should have when interacting with your brand. It addresses all the gaps and opportunities of the as-is journey and is designed to be seamless, intuitive and personal, in order to not only meet but exceed customers' expectations.
5 | Action recommendation
The booster journey approach results in numerous action points to achieve the ideal customer journey. The next step is to focus on the prioritization of measures to start with. To do this, we take into consideration the desired impact/benefits and regard limited time and resources. In order to establish which targeted actions should be prioritized, we work together with our clients on:
Aligning of prioritization criteria and process
Workshops with relevant stakeholders (potentially even customers) to prioritize measures
Bringing prioritized measures to implementation and already consider KPIs to track their success
Success is not the destination, it's the journey.
Let's bring your customer journey to the next level!
Why rpc?

Industry
E
xpertise
We have worked with a diverse range of brands across multiple industries in B2C and B2B, providing us with experience in tackling various business challenges.
Customer-centric DNA
Our approach involves a
co-creation process with our clients and their customers, resulting in tailored solutions that meet their unique needs.
E2E Support
Our certified processes and agile methodologies ensure effective and feasible solutions. We work closely with our clients through the implementation to ensure success.
Interdisciplinary teams
We have an interdisciplinary team of experts located across Europe and our flat hierarchy ensures that our internal paths remain short.
Successful Projects

Data-based customer journey design for customer-centric business development
Industry: Health insurance

Further improved product, service and process development by re-designing the existing customer journey based on quantitative and qualitative customer feedback.
41,423
customer feedbacks included

Cross-functional
alignment sessions for internal approval
Customer sentiment scores
per interaction identified
Identifying real customer value drivers
Obtaining full transparency of customer satisfaction criteria along the customer journey based on persona profiles in order to derive strategic measures for higher customer satisfaction.
100%
pain point transparency obtained
10
concrete needs for action identified
6
persona profiles and customer journeys validated, representing 600,000 customers
Digitize the Customer Journey for 2025+
Ensuring future competitiveness by defining an end-to-end digital customer journey for 2025+ with derivation of measures for implementation and decision-making for optimized operationalization (TOM)
3
holistic meta personas with digital E2E target journeys
> 80
measures how to achieve the digital target journeys
4
prioritized measures that directly went into implementation
Integrating the B2B and B2C eCommerce journey
Industry: Taxation and accounting

Optimizing eCommerce sales conversion by defining the customer journey for a new direct online sales channel addressing B2B and B2C customer segments.
Reducued
cost structures due to the combined eCommerce journey (B2B & B2C)
15
integrated business capabilities identified for B2B and B2C online sales
92
touchpoints attributed to 11 key interactions as strategic framework
We're proud of our clients