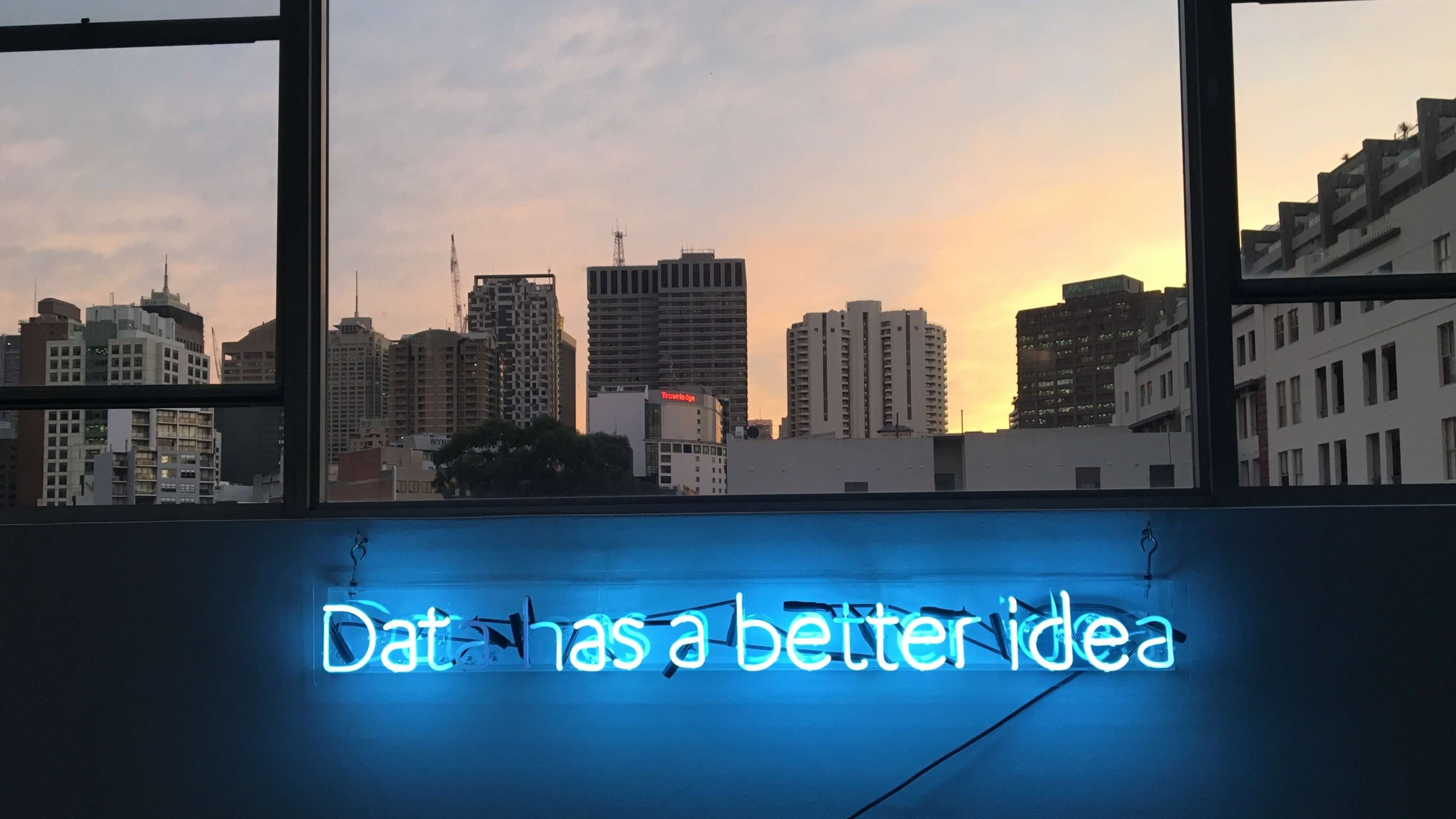 We roll things out
Successful IT
Software Implementation
– We show you how!
Successful IT software implementation is our passion. With our holistic approach (E2E), we ensure that IT systems are developed, implemented successfully and used sustainably. We address challenges and place the user at the center of change.
Contact us now and turn your vision into reality!
Identify the challenges before it´s to late: These are the typical pitfalls in software implementations
You want to rollout a new IT software without knowing exactly which factors could become a hurdle for you? We have summarised the most common problems for you:
1
Insufficient Change Management
Lack of awareness and acceptance impairs sustainable use with long-term success.
2
Poor Quality Management
Poor feedback process and lack of transparency in user feedback hinder continuous improvements of IT solutions.
3
No 360-Degree Test Management
Poor conduct of extensive testing (UAT, Pre Go Live) and correction of errors (bugs) leads to time delays and impairs the involvement of all stakeholders.
4
No Extensive Transition Management
Failures during the fade-out of the 'old system' as well as successful migration to the new system, including lack of user-oriented training.
And this is how you solve these challenges:
1
Customised Touch Points
We continuously adjust communication and activity to the different rollout phases, in order to achieve maximum effectiveness. Our Change Communication Map ensure the right dosage, control and intensity.
2
Comprehensive Quality Management Concept
We employ various quality gates that include checklists and measures such as on-site interviews and immediate feedback via survey.
3
Agile and Reliable Test Planning and Realisation
We establish a test and time schedule according to defined milestones. Our focus is on technical and non-technical dependencies as well as ensuring the availability of relevant resources.
4
rpc Lean Change Approach
Training, communication and change in close collaboration with the product owner, feature teams and users - all from a single provider.
A smooth system rollout with our innovative end-to-end approach: By using agile methodologies and a 4-phase rollout framework, we create a successful link between business and IT for the sustainable implementation of systems, tools and digital products.

rpc
IT Rollout Excellence Engine
Our rollout management toolbox and approach is based on co-creation and human-centricity to ensure a seamless implementation process. Our convincing 4-phase rollout approach consists out of Concept, Planning, Implementation and Value Stabilisation.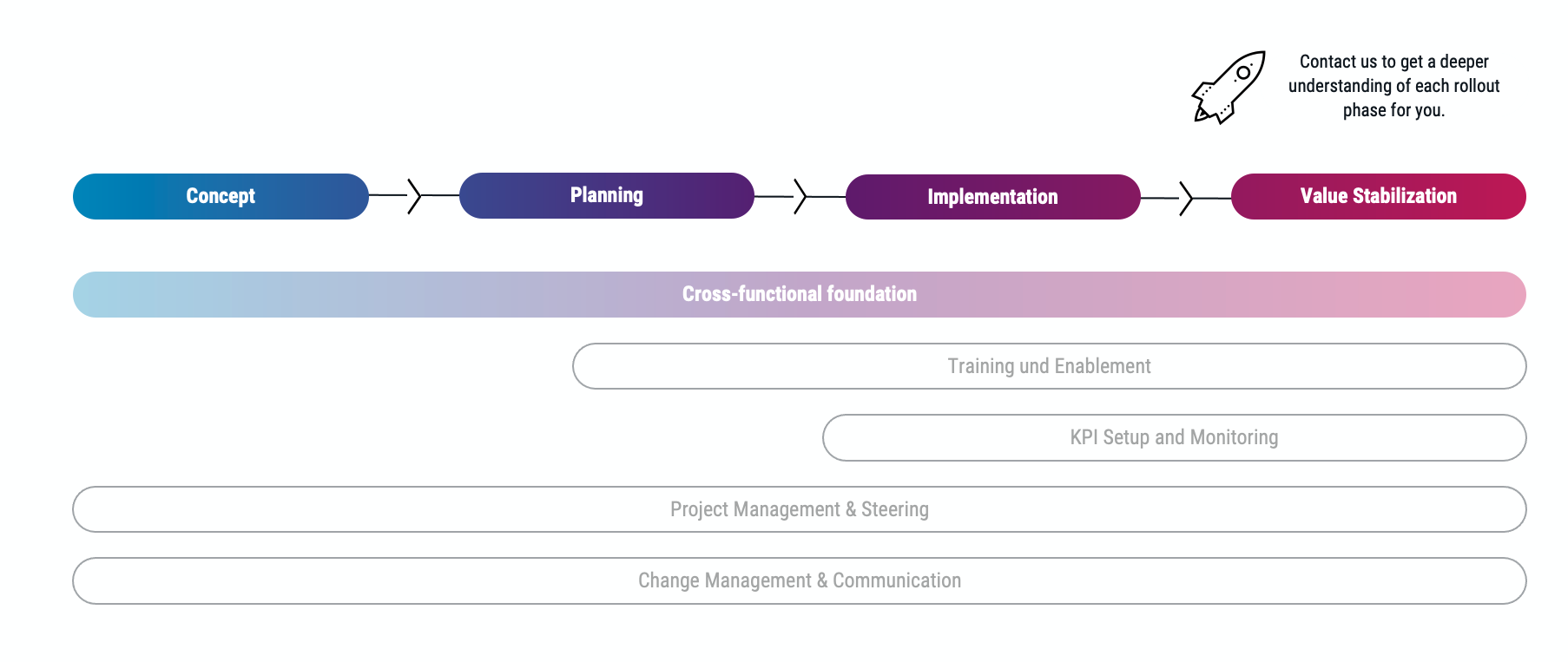 With our IT rollout framework, we ensure successful implementation and sustainable use of systems, tools and digital products throughout all phases.
As a foundation, we provide interdisciplinary change management to sustainably establish awareness of the changes and the importance of implementation throughout the entire introduction process.
Our portfolio includes training, coaching and state-of-the-art project management, accompanied by KPI tracking/monitoring. In this way, we ensure success. Our coaching approach facilitates the integration of systems and processes by increasing the coaches' acceptance of the implementation and its potential benefits.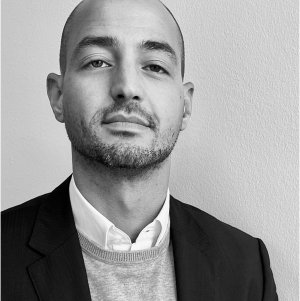 "It's about connecting people, processes and systems: A successful rollout combined with innovative change management is at the heart of true digital transformation at both, market and dealer level."
Claudio Paterno​, Senior Rollout Manager​
Why rpc?
Your partner for digital transformation
At rpc, we pride ourselves on being the ideal partner to help you achieve your technology goals. Our team of highly qualified experts holds in-depth industry knowledge and is always on the cutting edge of technology. Together, we have successfully implemented numerous data-driven projects in over 10 countries with renowned clients.
Our services range from agile methodology, IT change and project management to data engineering, data science, software development and more. We provide customized solutions that meet our clients' unique requirements and work closely with them to help them achieve their business goals.
Our team consists of highly experienced and trained experts who are certified in their respective fields. We dispose of well-founded technology knowledge and use a variety of technology stacks such as AWS, Python, Adobe, Machine Learning, Qlik, Tableau and many more. Our success is based on delivering high-quality solutions that meet our customers' needs and exceed their expectations.
Discover a new dimension of digital transformation with rpc and let us turn your vision into reality together!
We're proud of our clients