How do you address the 6 Key Challenges for successful rollouts?
Which measures fit with the individual Quality standards corporate tectonics?
A dedicated and demand-oriented planning phase is fundamentally important for every rollout. In addition to operational planning of measures, strategic corporate goals must also be kept in view. Only holistic rollout planning with targeted packages of measures can form the basis for a successful rollout.
This is especially important with the following challenges:
What expertise is needed?
Is the planned time sufficient?
Which technologies can support?
How to integrate involved stakeholders?
The regular exchange of information among the stakeholders involved about the planned rollout with all its facets is a major challenge. This requires real organizational talent, because only transparent communication of the goals and benefits of the rollout, combined with the transfer of responsibility, can achieve genuine commitment to the rollout.
This is especially important with the following challenges:
How can responsibility be transferred in a targeted and efficient manner?
Which teams are needed in the target markets?
How can value-generating exchange be ensured?
How are employees motivated to live change and stick together?
Often ridiculed, but ultimately decisive for the success or failure of a rollout - change readiness! 80% of all rollouts fail due to the teams' unwillingness to accept and live the change. What can be the reason for this? The reasons can be manifold - from a lack of communication of the target image to the lack of integration in the rollout implementation to planning errors that mean a project delay.
This is especially important with the following challenges:
Intrinsic motivation must be encouraged
What to do if my employees are overwhelmed with the changes?
How can transparent feedback be transformed into added value?
Despite the most detailed planning of the rollout, constant feedback from the field is essential for sustainable quality assurance. Often, the stumbling blocks only become apparent during piloting, which results in groundbreaking action: Take employee feedback seriously and build - and establish - regular processes to pass on structured feedback to the development / planning departments. An agile project set-up can help with this.
This is especially important with the following challenges:
Promote overarching transparency to avoid "silo effect
How can I efficiently coordinate internal dependencies?
A completed rollout does not usually mean that the work is now done. Rather, it is now a matter of anchoring and establishing the desired quality standard. The most important keyword here is "consistency". Standards must be formulated consistently so that they can be validated, measured and applied on a mass scale.
This is especially important with the following challenges:
How can continuous improvement be ensured?
How can I help develop feedback and improvement harmonies?
How can I establish consistent standards?
40% of the information sent does not reach the recipient correctly - this can have fatal consequences for the rollout to the heterogeneous departmental landscape.
It is therefore important to set up communication so efficiently that cross-departmental communication and collaboration is enabled constantly and without loss of information. Rollouts are often characterized by significant complexity, resulting among other things from the dependency of various workflows. It is essential to work with a selected tool set that channels communication and dependencies and makes them transparent.
This is especially important with the following challenges:
What interdependencies exist in the target markets
How can resources be used and shared effectively in order to operate efficiently?
Which tools can provide productive support here?
We provide direction -
from target definition to monitoring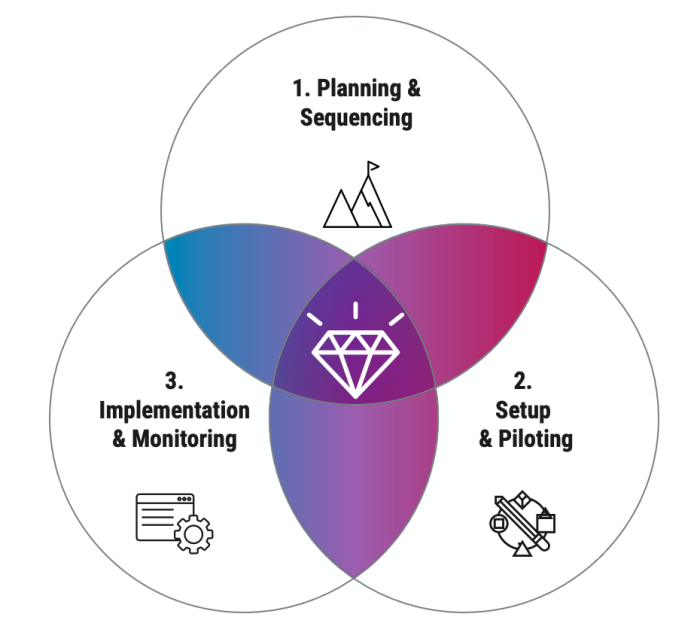 With a clear rollout structure, complex challenges are mastered with confidence...

...through a structured
target picture
Define vision, guard rails and timeline
Identify and engage relevant stakeholders
Identify relevant markets


...through customizing
the pilot
Develop detailed requirements
Set priorities and select state-of-the-art tools
"Pilot takeaways" for overall rollout design


... through KPI & Change Management
Select and qualify KPI s
Continuous monitoring and control
Conceptualize and execute trainings


The conception of a successful rollout:
Creation of a clear target picture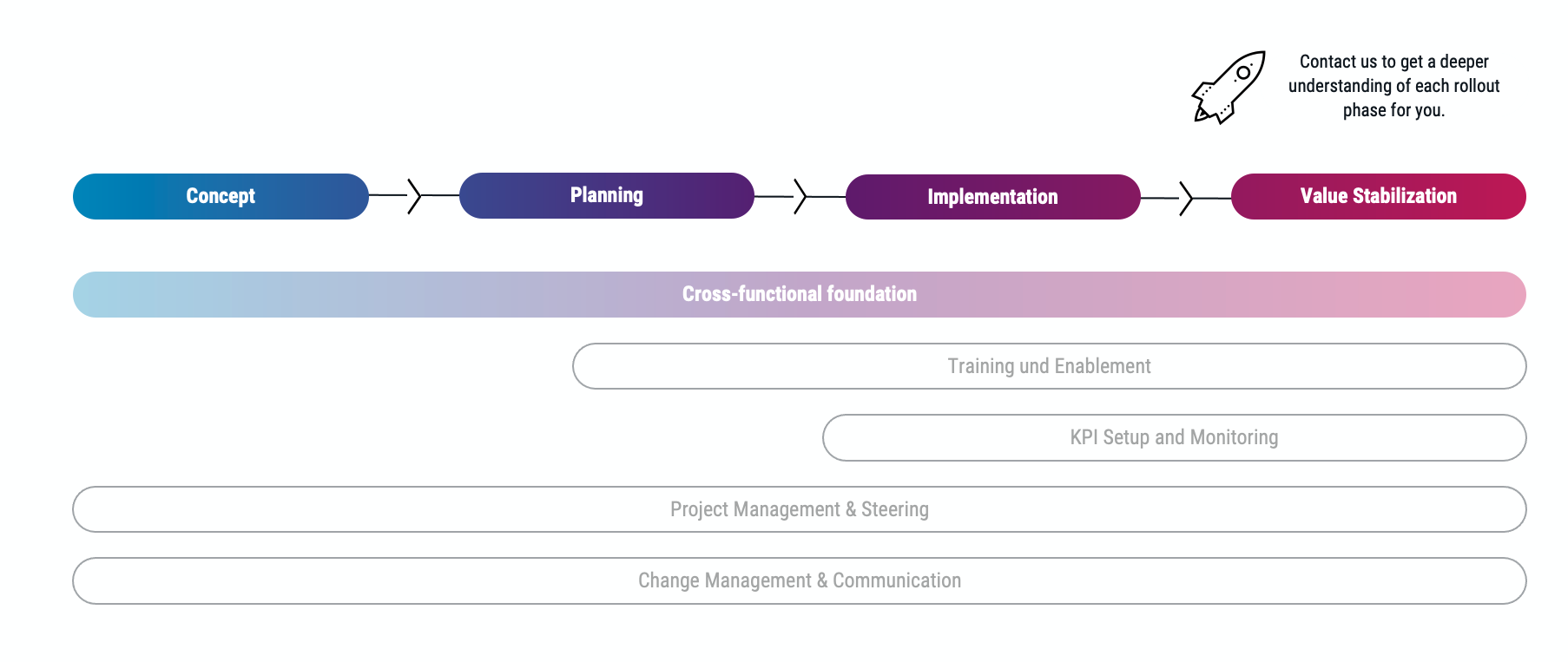 Continuous enhancement through robust quality assurance measures forms the bedrock of the esteemed
rpc
rollout framework.
When implementing rollouts, which encompass the introduction of novel roles and responsibilities, internal corporate control models face an arduous test. Fear not, for the rpc Rollout Toolkit serves as a comprehensive resource to orchestrate (digital) rollouts with utmost structure, transparency, and efficiency, while striking the perfect balance between standardization and individual customization.
The initial stride towards apt target planning entails conducting a meticulous status quo analysis. This assessment takes into account various pivotal factors such as budgeting, pertinent roles, markets, communication models, and schedules. The blueprint of the rollout, meticulously crafted within the confines of the conceptual design, must encapsulate intricate rollout guardrails fortified with apt measures, subsequently to be seamlessly translated into a well-crafted rollout plan. An indispensable component of this comprehensive blueprint is meticulous planning, be it on a national, regional, or application level, where the strategic sequencing of the rollout assumes paramount importance, ensuring streamlined efficiency and expeditious progress.
During the implementation phase, it is prudent to chart a course that includes a strategically sound pilot phase. This judicious approach enables the early identification of challenges and the implementation of prompt countermeasures. Our esteemed team stands ready to provide invaluable support in identifying, establishing, and executing meaningful pilot programs tailored to your specific needs. In the pilot phase, it is of paramount importance to proactively plan for feedback loops, enabling the seamless transfer of insights and knowledge to the teams responsible. Concurrently, the individuals involved are skillfully trained, guaranteeing the establishment of a sustainable foundation for the pilot initiative. Once the pilot phase proves successful, the rollout can be expanded on a grander scale, ensuring that the novel processes are firmly rooted, a feat only attainable through an all-encompassing change initiative. Our team of experts eagerly anticipates assisting you in the meticulous planning and seamless execution of your esteemed rollout endeavor.
With
rpc
you
get
access
to
an
internationally

experienced
network
of
experts
...
> 110
rollouts successfully implemented thanks to international rollout expertise with tailored frameworks
> 13.500
process steps recorded and reported
> 800
-tools and best practices, to guarantee sustainable change
…and benefit from the combination of our know-how with our four pillars, which form the basic framework of the "
rpc
circle of excellence"



CONCEPT
The rollout scenario can be tested on a "small" scale as part of a pilot project. Important "lessons learned" can be derived from this, which play a key role in quality assurance for the entire rollout.
Concepts elaborated in the planning phase are thus continuously enriched and implemented with the appropriate tools. There is no such thing as a blueprint. Every rollout has different requirements that can be tested in the pilot phase.

PLANNING
Based on a defined scoping of the rollout, a project planning must be set up. This is fundamental and is continuously updated throughout the various rollout phases.
It is based on milestones, capacity requirements (central and local) and a clearly defined target picture.
In addition, a dedicated project team should be defined and given the corresponding responsibilities.

IMPLEMENTATION
During the implementation window, it is important to have a tracking tool available to monitor and control the process. Especially in this phase, regular exchange is essential, also to ensure an intact quality management.
Consequently, a (market)-specific - and a (market)-overarching steering office should be installed to avoid superfluous coordination rounds and to use valuable insights as a catalyst for efficient implementation.

VALUE STABILIZATION
A sustainable rollout success is not yet necessarily given with the successful implementation. Rather, this can only be assessed with certainty after a few weeks/months. Consistent questioning and a regular feedback process are used to transfer the rollout implementation into a continuous improvement process and ultimately to be able to achieve sustainable and not just short-term added value.

Our Case Studies
BMW | SALESFORCE | SOFTWARE
International Salesforce rollout to optimize sales management
TELEKOM | STORE ROLLOUT | PHYSISCH
AR and VR: Hybrid union in a store concept
MAN | HOUSE OF DIGITAL | SOFTWARE
After Sales Excellence rollout to increase customer satisfaction
BMW | WALKME FOR PMH TOOL | SOFTWARE
Strengthening retail performance management, including the use of the WalkMe digital adoption platform.
Support for global sales management through a centralized and fully automated reporting solution
DAF | GLOBAL STANDARDS | SOFTWARE
Implementation of an individual rollout and change management approach
TELEKOM | DASHBOARD ROLLOUT | SOFTWARE
Complete status transparency of all stores during rollout