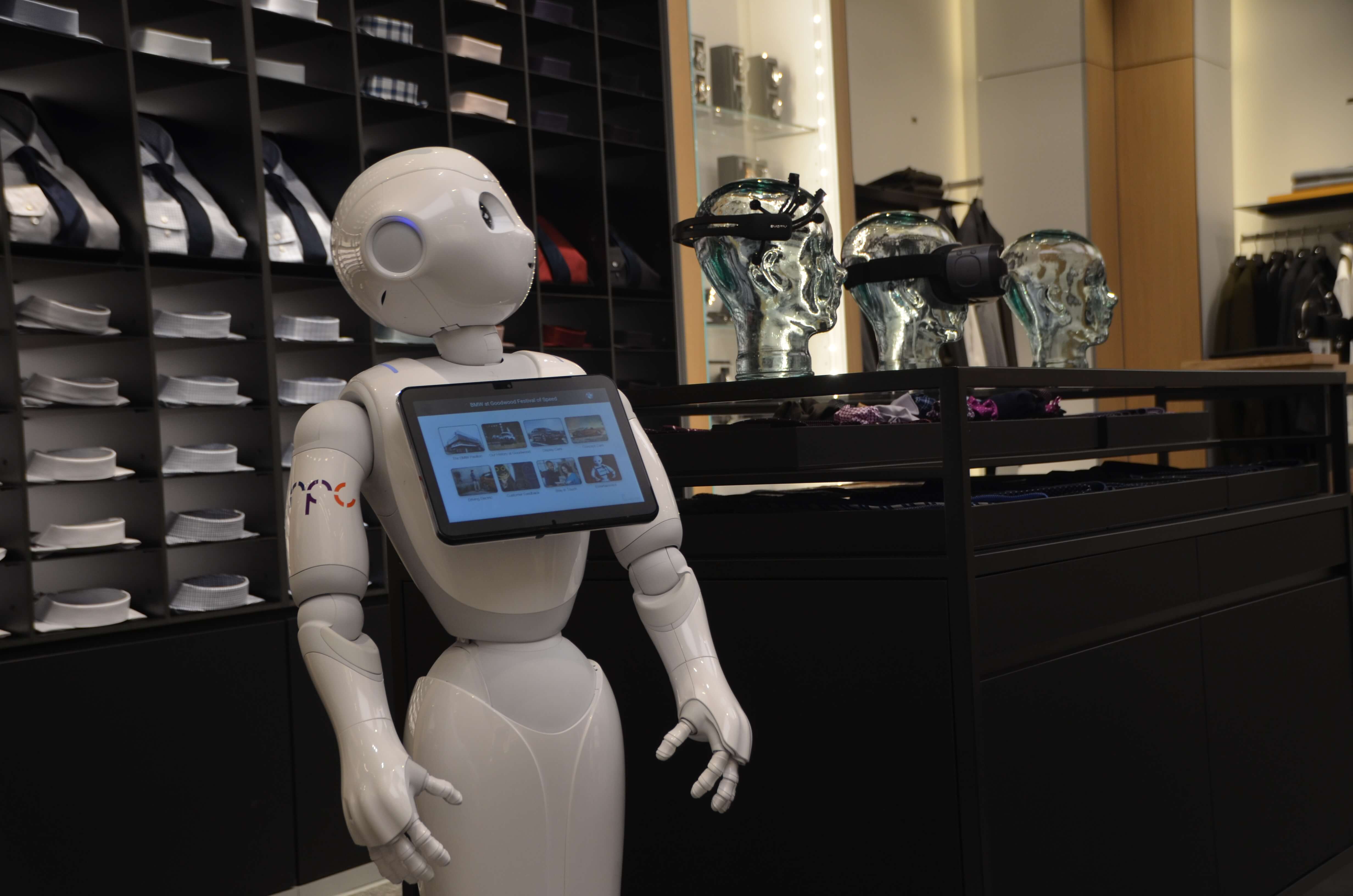 Insight
the secret of human-focused retail
by Jan schemuth
Technology has not made face-to-face interaction obsolete and is unlikely to do so in the forseeable future. For the retail sector, this provides a great opportunity.
Modern technology in retail needs to be human-focused
You may have experienced the following situation before: In a shop equipped with the latest technology, you have no idea how to use screens or other technical gadgets. And because five or six curious customers are looking over your shoulder, you'd rather not. So, the futuristic control panel in the shop remains unused. Fortunately, there is Petra Krämer at the Hugo Boss store in the Munich-based shopping mall Fünf Höfe. Not only does she advise football stars what they should wear at a gala reception, she is also familiar with the instore technology. With the help of the "Smart Mirror", she finds the right belt for the new suit on the touchscreen together with her customer or presents shirt variations. She demonstrates that modern technology doesn't work without people.
Why is Mrs Krämer decisive? It's not just pushing buttons in the store – she also does it in a figurative sense, with her customers. With her personal approach, customer attitudes change from a stressful technology overload to a positive challenge. This is hands-on technology – with help. The customer advisor builds a bridge between technology and customers who use it. Mrs Krämer stands for a change in (digital) retail towards customer orientation.
We at rpc experience through our work with our customers that it is not enough to compile detailed data about customers in order to create tailor-made offers. Despite all the technology, people want human contact, interaction and dialogue face to face. This demands more from the women and men at the front. What is required is not only technical knowledge and professional competence, but also customer advisors who act with psychological skill and assume the role of a role model themselves. They show how it works and therefore create trust.
Becoming from product manager to a friend
Experts at the Hamburg Institute of Future are now talking about "human retail", in which the customer is once again the focus of attention – with all its associated challenges. If retailers are to be more than human sales machines, they have to do what AI has failed to do so far: To create closeness through empathy, and to create authentic sales experiences that are experienced by customers as fulfilling, going beyond recommendations by an algorithm due to past likes and personalized data records. Suddenly, the phrase "Unfortunately, that doesn't suit you" becomes an expression of true closeness. Of course, this increases the demands. It is no longer a question of making simple recommendations, but of dealing with customers at eye level and advising them as "friends". The classic role of a salesperson was yesterday, today in our opinion it is about advisors, "socializers" or even "instore-influencers" who surprise themselves and their customers.
We at rpc firmly believe that without people this is not possible. This message, which is obvious in itself, makes us sit up and take notice in times in which assistance systems are penetrating more and more fields, literally getting on our nerves. In the car, booking a flight, shopping. That's why the right team is needed to exploit the full potential of human retail. Customer orientation is not a term from the marketing kit, it is a living reality – and is reflected in the appearance of the sales staff who have been trained for this very moment. Without them, the shop would just be an electronic changing room with impressive technical features. It is the interplay of comfort, authentic interaction and a personal approach that creates shopping experiences that we are happy to share.
Proximity instead of distanced technology
"Technology is not our problem," said Peter Schwarzenbauer, CEO of BMW, at the rpc Retail Excellence Round Table 2017, "We will not fail because of technology. We will fail if we don't take people with us as part of the transformation." There is little to add. But what if AI follows suit here in the next few years? A forecast in the Forbes of 29 January 2019 reads: "Online shopbots are likely to be able to replicate 90% of normal human retail interactions within the next five to ten years". A horror scenario for Frau Krämer? Not at all. Because the answer was also provided. Shops have to "create an immersive brand environment and an expert level of service that the internet cannot match". This is precisely why Mrs Krämer will never go out of fashion.
This article was also published on LinkedIn.
Hugo Boss store, Fünf Höfe, Munich
contact our retail trends partner
expert
Jan Schemuth
Managing Director
about
Jan Schemuth is managing director and chief financial officer of rpc. He is responsible for new client accounts and markets, business development, and operative business management.