turning customer needs into business value
The adage 'the customer is king' rings truer today than ever before. But how can you satisfy constantly-evolving customer wants, needs and pain points without sacrificing profitability? At rpc, we pave the way for your transformation from a product-centric to a customer-centric organization. So you can better connect with your customers and create measurable, data-driven business value.
use our capabilities to:
Generate customer-centric insights and segmentations, and develop personas
Data analytics, strategy and digital transformation
(Re)design customer and sales journeys
Strategy and digital transformation, customer experience management, experience mapping and experience design
Design no-line retail formats
Experience mapping and experience design, experience implementation
(Re)design a customer-centric business and operating model
Consulting, strategy and digital transformation
Rethink the logic behind steering and KPIs
Data analytics, performance and optimization coaching
Get people to join you on a journey of transformation
Transformation and change, employee development, training and Coaching
MODERN SALES REPS AND ORGANIZATIONS AIM FOR A POSITIVE CUSTOMER EXPERIENCE AND LOYALITY INSTEAD OF ONE-TIME SALES.
contact our customer-centricity expert
expert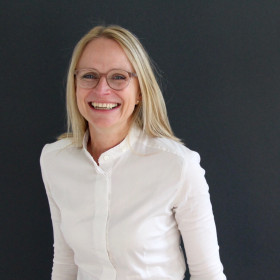 Maike Burger
Customer Centricity Expert
about
Maike is our resident specialist in customer experience strategies and concepts. As a certified SCRUM product owner, she can assist you from strategy to implementation.