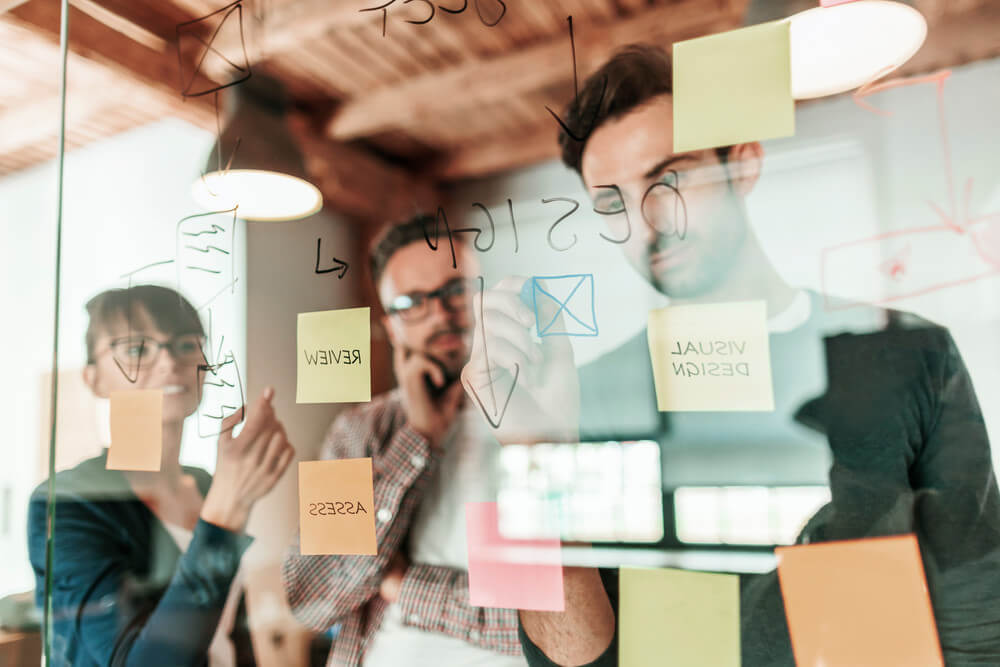 Insight
a target operating model for higher customer centricity
by michael erz and anja eimer
It goes without saying that customers want to find the right product or service quickly, conveniently and at any time wherever they are looking. As easily as possible and without any obstacles. This change in consumer behavior challenges companies' existing product-oriented business models. It has since become crucial for success how quickly and uncomplicated they meet customers' requests. As a consequence, many companies establish an omnichannel sales distribution to leverage the new types of customer behavior and customer engagement as well as possible. What at first sounds like a true bringer of salvation, however, only works with the help of a well thought-out concept.
It's time to transform your business model
"Customer is king" – a phrase that only a few companies really take to heart. A large proportion, on the other hand, invests a great deal of time and money in its innovative power on the product side. But do they really focus on their customers' needs? No way! The secret, dear companies: align your development, production and sales processes along with your customers in such a way that you will be positively noticed right at the beginning of the customer journey. Since products and services are often equivalent, it is difficult for customers to distinguish the actual value of individual offers. Companies can therefore only stand out by an optimally steered customer journey.
A construction plan for real customer orientation
In theory, all this sounds plausible, but how can the structure of a target operating model be put into practice? How, for example, does a company have to proceed in order to integrate an e-commerce shop into its traditional sales organization with stationary retail? Our target operating model creates a blueprint for how companies can shape their operations in the future and which steps are required in what order:
• From the intelligent orchestration of the different distribution channels with one another
• The interfaces to other company divisions and the qualifications of the employees involved in the management tasks and their control elements
• The instrument illustrates all the requirements and framework conditions
New standards, structures, and processes need to be derived along the customer journey. This is absolutely essential because today it is no longer the product alone that characterizes the success of the company for the customer. But rather a complex process long before the actual purchase and an integrated view of the entire customer lifecycle.
Why you have to get your employees on-board
It is also crucial to take the employees on the transformation journey towards more customer orientation. We recommend supporting such a change with change measures that are oriented towards the respective target group within the company. It is therefore important to first identify the supporters, multipliers, and deniers among the employees and to involve them in the processes. Creative ideas and new impulses are needed in order to avoid a reluctance to change. And remember: communication is key! Those who keep their employees waiting too long for information about the company's future risk negative feelings instead of curiosity and openness.
A little tip in passing: digital technologies such as mobile apps, eLearning, social media applications, Virtual or Augmented Reality are well suited to convey the complex contents of the forthcoming changes.
It's time to transform your business model
Developing models such as the target operating model takes a lot of time and demands a great deal of commitment from all parties involved. Even if companies possibly find themselves facing new risks and responsibilities by developing a customer-oriented business model, new times offer new opportunities. Companies that involve their employees, business partners, customers, and potential new customers in the conception, production, and distribution processes for their products and services using clear structures today, are preparing for a future that, given progressing digitalization, leaves no room for alternatives.
get our whitepaper
Contact us and we send you the complete whitepaper Target Operating Model.
We respect your privacy. For more information please read our privacy policy.
other interesting insights