shaping change, experiencing success
rpc's effective change monitoring
Unleash the full potential of your change processes: Increase your success with rpc's customized KPIs! Successful change requires not only a vision, but also the right tools to measure and target your progress.
Working with rpc, you not only get powerful change monitoring, but also innovative consulting that integrates KPIs throughout the entire process. Experience how our experts can help you optimize your change initiatives and create the greatest possible success for your company.
Leave nothing to luck and rely on meaningful KPIs to efficiently manage your change process and achieve sustainable success. Let us realize your vision together and turn your change processes into tangible successes.
Ready for a successful transformation? Discover the power of KPIs with rpc now and steer your company on the road to success!
Achieve succ
ess together:
Maximize your progress through effective change and achieve your goals.
Success through clear measurability: Use the power of KPIs for your business changes and transformations. KPIs are crucial when it comes to tracking and evaluating the progress and success of your change measures.
Through the targeted use of KPIs, you can monitor the success of your change initiatives in real time, identify bottlenecks early on, and make necessary adjustments to achieve your set goals. The objective foundation that KPIs provide supports you in making informed decisions and helps you maintain focus, deploy resources efficiently, and derive maximum benefit from your transformation project.
With continuous KPI monitoring, you ensure that your transformation is on track and that you are achieving your strategic goals. Make your change measures measurable and successful - discover the potential of KPIs for your company now.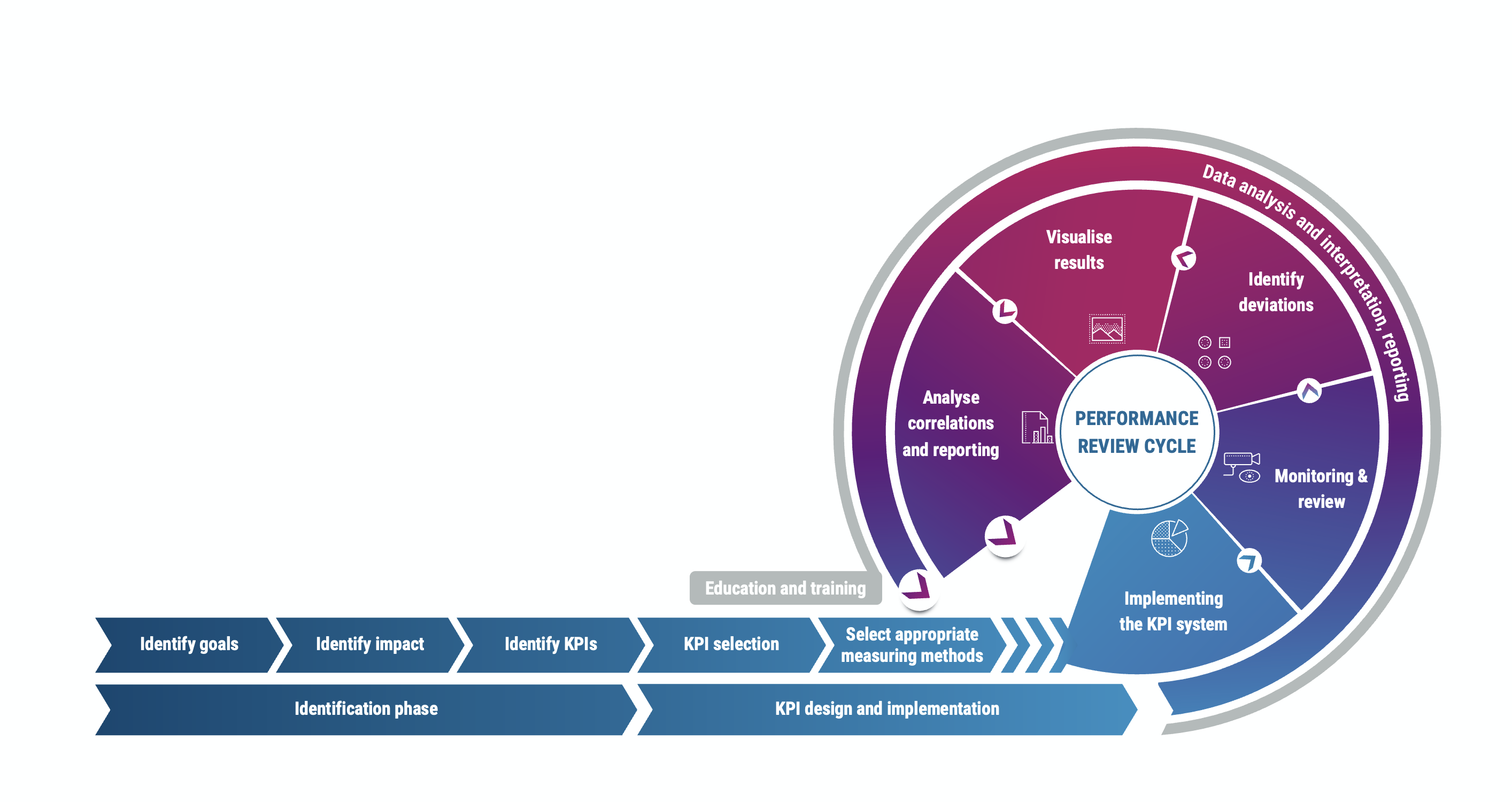 4 possibilities
Within our consulting approach, we offer four different packages on the topic of change monitoring in order to define and implement a solution together with you that is as individual and custom-fit as possible.
1
Identification of relevant KPIs: We work with you to determine the goals and potential impact of your change initiative to identify the relevant KPIs.
2
KPI design and implementation: Based on this information, we select and create the appropriate KPIs that accurately reflect the core of your change processes. Likewise, we adapt appropriate measurement methods and seamlessly integrate the KPI system into your existing processes.
3
Analysis and interpretation of KPIs: Our team monitors your KPIs with a data-driven dashboard customized for your measures. Together, we identify variances and visualize results to enable informed decisions.
4
Education and training: Our offering includes customized training programs and interactive workshops designed to train your team in the effective use and evaluation of key performance indicators (KPIs), allowing for continuous performance improvement.
Optimization of the change process...
through customized solutions, a holistic approach and a committed partnership.
Customized solutions
We understand that every change process is unique. That's why we use specific KPIs to meet your individual needs and goals. Through these customized solutions, we can effectively monitor the progress and performance of your change process.
Holistic view
Our approach does not just involve the use of isolated KPIs. Rather, we look at the entire change process and use KPIs to identify potential and bottlenecks. This holistic view enables us to manage the process in a targeted manner while promoting transparency and communication.
Committed partnership
We are more than just a service provider - we are your committed partner. We work closely with you to understand your goals and implement them effectively. Through our partnership, we strive to maximize the success of your change process.
We're proud of our clients